The Volkswagen Phaeton is a full-size luxury sedan/saloon manufactured by German automaker Volkswagen, and is described by Volkswagen as their "premium class" vehicle. It was introduced at the 2002 Geneva Motor Show, and marketed worldwide.
The name Phaeton derives from Phaëton, the son of Phoebus (or Helios) in Greek mythology, by way of the phaeton auto body style and the type of horse-drawn carriage that preceded it.
The Phaeton body is fabricated and painted at the large Volkswagen works at Zwickau, Germany, and the completed bodies are then transported about 100 km by special road transport vehicles to the Transparent Factory. Most Phaeton engines, the W12 being the notable exception, are built at the VW/Porsche/Audi engine plant in Győr, Hungary.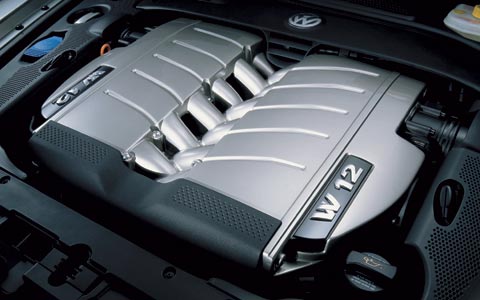 As of 2007, powertrain options for the Phaeton include the following engines. 4motion permanent four-wheel drive is the only driveline system available. A front wheel drive only configuration was available with the 3.2L engine during MY 2003 and 2004 only.
For the 2011 model year the Phaeton was once again the recipient of a facelift. It was first seen at the Beijing Motor Show. The car gets a new front fascia to more closely resemble the current Volkswagen styling direction, first seen on the Golf Mk VI. (Note: the front will not be in black like the Golf, but in chrome.) This includes new LED running lights, bi-xenon headlights and a new bumper with LED fog lights. The rear LED clusters have been altered as well to mimic those found on the recently facelifted Toruan, Sharan, and new Touareg. The interior benefits from some new technologies as well, but retains the 2009 MY layout. The Phaeton will have two different versions: a normal wheelbase and long wheelbase. The Phaeton will also offer a 5-seat layout or an optional 4-seat layout. In the 5-seat version, the front seats can be adjusted 12 ways. It will have standard features like all-wheel drive, air suspension, and 4-zone automatic climate control. It will also have a multifunction steering wheel that can be ordered in leather or wood-leather.